Some of you Pshop tinkerers might be interested in this...
Quote: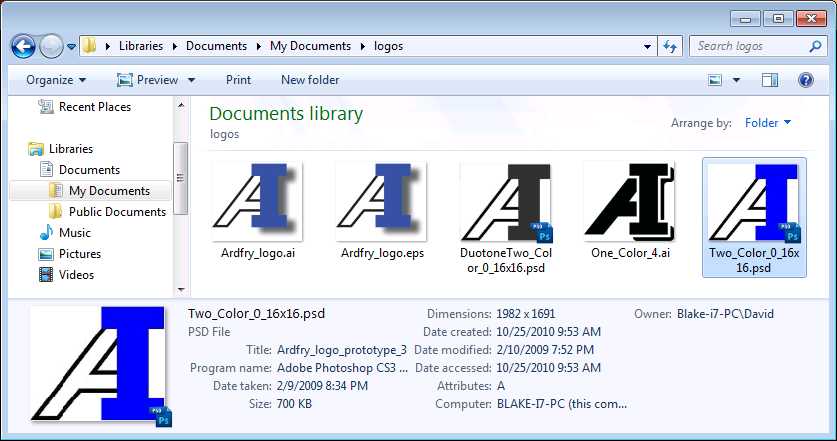 The PSD (Adobe Photoshop Document) Codec is a plug-in for Windows Explorer, Windows Photo Viewer, and Windows 7 Media Center.

View PSD files in Windows Photo Viewer, Windows Photo Gallery and Windows Live Photo Gallery. You can view PSD files in Windows Photo Viewer and Windows Media Center on Windows 7/8. Now you can also view your Adobe PhotoDeluxe PDD files as well.

See thumbnails for PSD files in standard file open dialog boxes. View PSD and PDD files throughout Windows, including PSD files exported from other third party applications such as Lightwave3D and Modo.

You can see thumbnails for:

Adobe Photoshop PSD PSB and Adobe PhotoDeluxe PDD files
EPS files with embedded screen representations and thumbnail medadata
most Adobe Illustrator AI files
InDesign INDD files from CS2 and later that were saved with preview images
PDF files that were saved with XMP thumbnails. Even broader support for PDF thumbnails is provided when Adobe Reader is installed.

View metadata:

View XMP, IPTC, and EXIF metadata from PSD and PSB files. Search the file system based on metadata using Windows Desktop Search.

What's new in this version:

Improved support for PDF 1.4
Fix: issue with generating thumbnails for linearized PDF files that have been incrementally updated
Fix: issue with generating thumbnails for some INDD files
Fix: crash with INDD files that don't include thumbnails.
Download:
PSD Codec 1.5.1.0
| 1.4 MB (Fully functional 15-day trial)
View:
PSD Codec Home page
[Source : NeoWin]
Expecting $20 for it is a bit much I think though